EASY
PENSION
ALSA PK's variable pension fund concept Easy Pension offers a simple and easy-to-understand pension solution from a single source: all benefits due to disability and death are insured as a percentage of the effective AHV salary. The insured thus benefit from transparent and inexpensive risk benefits. In addition, Easy Pension makes the death or disability insurance policies taken out privately by employees obsolete.

Easy Pension "Disability"
Easy Pension "Disability" offers a pre-defined total benefit in the form of a pension in the event of an accident. The distinction between 1st and 2nd pillar, which is complicated for the insured persons concerned, does not apply because the pension fund balances the benefits between the 1st pillar and the defined benefit level.
The basis of calculation is the salary subject to AHV. The insured benefit level can be 70, 80 or even 90% of this salary. As a further special feature, this benefit is paid both in the event of illness and accident. All benefits paid by other social insurance companies (IV, UVG, etc.) and their children's pensions are included in the total Easy Pension benefits. The separation between accident and illness, which many insured persons find incomprehensible, is thus no longer necessary.

Easy Pension "Death"
As in the event of disability, Easy Pension "Death" offers a total benefit in the event of death - with one exception: child pensions are paid in addition to the pension of the spouse or life partner. Otherwise, even in the event of death, the benefits from the pension fund up to the defined level are paid out in the form of a single total pension, taking into account the 1st pillar.
Disability pension (incl. child pension) due to illness
Benefits in % of AHV annual salary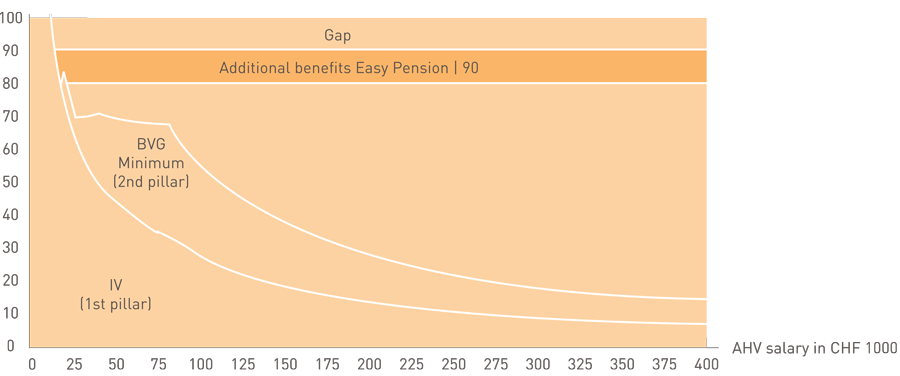 Survivor's pension following death
Benefits in % of AHV annual salary